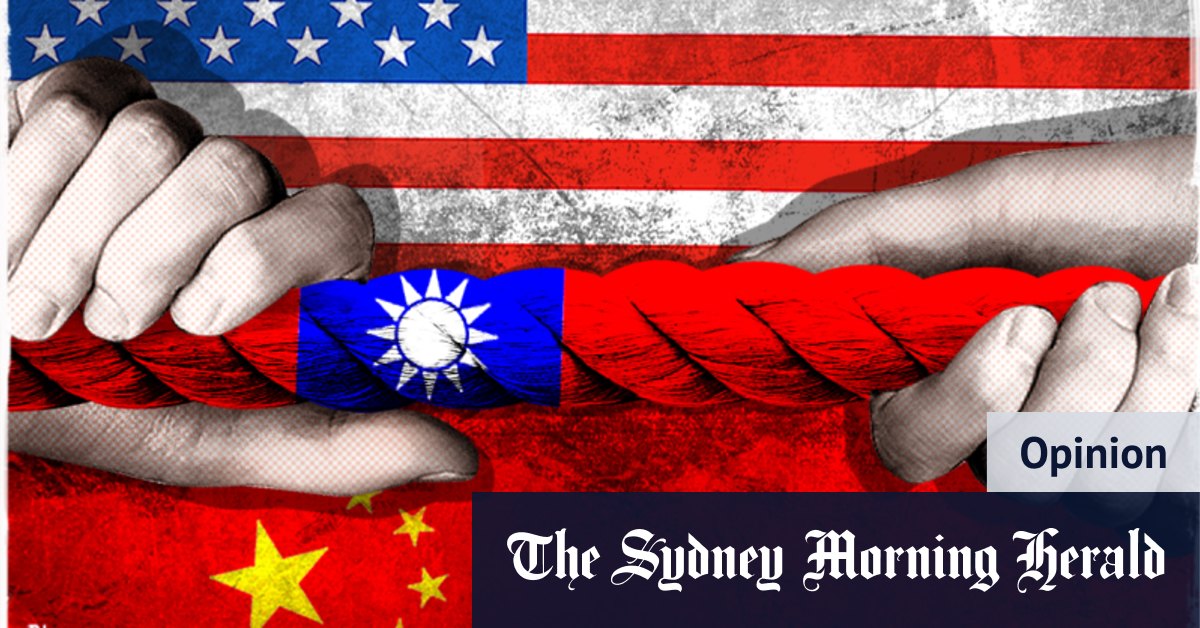 And while Xi has been described widely in the West as "leader for life", he nonetheless needs to be re-endorsed by the party every five years.
No serious analyst is suggesting that he will be dumped. His grip on the party is iron. But even an autocrat feels political pressures and Xi has his – China's zero tolerance policy on COVID continues to impose rolling lockdowns on China's cities, frustrating millions. It's also stalled economic growth, triggering a liquidity crisis in the real estate industry and leaving hundreds of thousands of incensed homebuyers without homes.
How does a stressed Chinese politician boost their approval? By "standing up to America", especially over the hypersensitive question of Taiwan.
So Xi ordered a series of punishments for the US and for Taiwan. Beijing has shut down its communications channels with the US on vital matters including defence and climate change. It has imposed an import ban on 100 categories of Taiwanese exports. It sent scores of warships and air force planes to intimidate Taipei and fired ballistic missiles across the island.
Loading
And, by conducting live-fire military exercises in six locations around Taiwan's coast, it put a de facto blockade on the island for three days. Party-owned media cheered on this display of China's power.
Xi didn't need to do any of this. He could have dismissed Pelosi as a "lame duck" Speaker, the term that the Republicans like to use against her, making a last, pathetic play for relevance. He could have treated her with a show of pity rather than one of anger. But no; China's president turned on the outrage machine of hypernationalist indignation.
In this way, Pelosi and Xi, America and China, inflamed each other's nationalist animosities. The two great powers fed a mutually beneficial feedback loop, each side seeking domestic points by hurting the other, with Taiwan left to bear the greatest pain.
This is exactly the trap that Xi has warned about in the past, the so-called Thucydides trap. He took the name from the Harvard sinologist Graham Allison, who a decade ago wrote:
"The defining question about global order in the decades ahead will be: can China and the US escape Thucydides's trap?" This is when a ruling power and a rising power go to war in a struggle for primacy just like Sparta and Athens did in the fifth century BC in the Peloponnesian War, as recorded by the ancient Greek historian Thucydides.
Loading
"Most such challenges have ended in war," Allison wrote.
Xi has spoken about the idea publicly and a number of times with the then Australian prime minister Malcolm Turnbull: "Xi often referred to the Thucydides trap," Turnbull tells me. "When war arises not because of any particular incident but simply because the rising power creates enormous anxiety in the incumbent power.
"If the trap is sprung by rising levels of anxiety, you'd have to say that Xi's foreign policy has been calculated to spring the trap. The belligerence, the rhetoric has all seemed to heighten anxiety." The US and China "are certainly falling into it".
The head of the ANU National Security College, Rory Medcalf, says, "There's no inevitability about all-out conflict, but there's a disconcerting willingness to play with risk. What's changed as a result of last week is that we have a permanently heightened level of risk.
"Paradoxically, it's revealed China's hand – China has confirmed its willingness to move rapidly to military threats and to a blockade. China is giving us a data set to prepare against. China is clearly willing to cause immense economic damage to use an embargo.
"That should be an alarm bell to business communities all over the world, including in Europe and others deeply invested in the economic lifelines of the Indo-Pacific. A warlike crisis would kill business as usual. It has implications for shipping, supply lines, insurance. It's a reason to start preparing economic levers so that they can be used to help deter China from this folly."
The world needs sane statecraft, but at the moment it's getting only politics.
Peter Hartcher is international editor.
The Opinion newsletter is a weekly wrap of views that will challenge, champion and inform. Sign up here.
Denial of responsibility! insideheadline is an automatic aggregator around the global media. All the content are available free on Internet. We have just arranged it in one platform for educational purpose only. In each content, the hyperlink to the primary source is specified. All trademarks belong to their rightful owners, all materials to their authors. If you are the owner of the content and do not want us to publish your materials on our website, please contact us by email – admin@insideheadline.com. The content will be deleted within 24 hours.
Source: News